<object width="243" height="200"><param name="movie" value="http://www.youtube.com/v/1ekZcjzSTNI"></param><param name="allowfullscreen" value="true"></param><embed src="http://www.youtube.com/v/1ekZcjzSTNI" type="application/x-shockwave-flash" width="243" height="200" allowfullscreen="true"></embed></object>
Silence Is Betrayal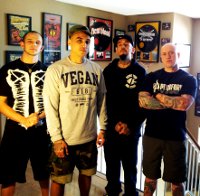 Formed in 2002 in the legendary San Francisco Bay Area California USA, First Blood set out to create straight-forward and crushing metal-edged hardcore music with a pissed-off, in-your-face message. "We just wanted to play music that was right to the point so kids could sing-along and let out their aggressions on the dancefloor," states frontman Carl Schwartz about the band's early, no-frills attitude. "We never thought or expected we would be playing shows outside of California, let alone San Francisco." That would soon change.

Upon the self-release of their brutal 5-song DEMO 2002 (later reissued by Bridge9 spin-off Division 36 Records) and a split 7" Dead Man's Hand Series EP with Philadelphia's Blacklisted in 2004 on Deathwish Inc, First Blood soon hit the road to unleash their fury upon the world in promotion of their debut 2006 full-length release entitled "Killafornia" on Trustkill Records.

"We had our sights set on touring in every underground music scene possible so as many kids had a chance to see First Blood and hear our message," states Carl. The band would soon light radar screens in more than 30 countries worldwide, with devoted listeners across the United States, Canada, Europe, United Kingdom, Australia, New Zealand, Mexico, Hong Kong, Phillipines, Thailand, Indonesia, Malaysia, Singapore, Japan, and beyond. Sharing the stage with world-class acts such as Cro-Mags, Comeback Kid, H2O, Ignite, Sick Of It All, Agnostic Front, Hatebreed, Madball, Terror, Napalm Death, Exodus, Gorilla Biscuits, Earth Crisis, Strife, The Path Of Resistance, Stick To Your Guns, Death Before Dishonor, Gallows, Born From Pain, Decapitated, and many more, First Blood has become an unstoppable force and staple of the hardcore community.

Fast forward to 2010, First Blood ramped-up for their highly-anticipated, sophmore release entitled "Silence Is Betrayal" on Bullet Tooth Records. Featuring 16 tracks of pure musical devastation and lyrical condemnation, First Blood relit the flame and burning spirit that originally brought the band together. "Silence Is Betrayal laid it all out on the table with a point of view that left little to misinterpretation" is how Carl described the strong lyrical focus of challenging the status quo, while remaining every bit as true-to-sound to the brutal aggression that many have come to expect musically of First Blood. "Silence Is Betrayal is every bit as heavy and abrasive as First Blood gets, complete with a war-torn soundtrack of armageddon breakdowns and relentless sing-along calls to action."

Full speed ahead into 2012, First Blood celebrates their ten year anniversary as a band. "We're really proud of what we've accomplished and where we've been over these past ten years, and we're really thankful for all of the great people who appreciate and respect what we do and represent. You make this possible and we salute you with infinite thanks, love, and respect!" To mark this milestone, First Blood prepares their upcoming tribute release(s), dedicated to those who have inspired the band in both music and life. Aptly entitled, "FBI" (First Blood Inspiration) listeners can expect to hear crushing new renditions of classic anthems by Hatebreed, Sick Of It All, Earth Crisis, Path Of Resistance, Agnostic Front, Madball, Biohazard, and many more... all re-recorded in First Blood style. Release dates to be announced in early 2012.

Keep watch and catch First Blood live on the Mazine Rebellion Tour 3 with Madball, H2O, Deez Nuts and more (March 2012/Europe) as well as New England Metal and Hardcore Festival (April 2012/USA). Stay tuned for more upcoming tour annoucements with destinations around the world. "It's shaping up to be another strong year in the First Blood legacy" adds Carl as momentum continues to push forward with First Blood. "Let's keep the message alive. We'll see you all again soon. Peace and love!