<iframe width="243" height="200" src="//www.youtube.com/embed/CxfxO8QzKxk" frameborder="0" allowfullscreen></iframe>
Out in the dark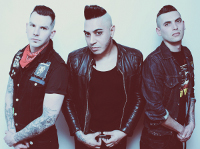 More Brrraaaaaiiinnnsss!!!
Canada?s most insanest, undeadest and bestest psychobilly horror-punks are back with with their latest, greatest album to date.

The Brains has never been a band to follow the rules?in fact they?ve made it a point to utterly and completely destroy every single one of them with each album they release and every show they play. These hardworking road-warriors have brought their eye-popping live show to the four corners of the world; playing packed houses throughout Europe, Canada and the US alongside acts like Mad Sin, The Offspring, The Reverend Horton Heat, The Real McKenzies, The Creepshow and many more. A relentless tour schedule is in the works for 2013 that includes stops at CMW, PouzzaFest and The Pineda Psychobilly Meeting in Spain.

The Monster Within is an unholy collection of 14 mind-bendingly brain-melting tracks that will explode in your earholes like a hell-born volcano. The impossibly fast and unbelievably tight rhythm section of Pat Kadaver (skins) and Colin The Dead (stand up bass) threaten to push the limits of sanity and safety to the very edge? Rene D La Muerte?s (vox/gretsch) haunting croon sends shivers up the spines of even the most jaded listener while his signature guitar stylings fuse the rockabilly sounds of the 50?s with the intensity of an industrial chainsaw. The Brains continue to blur the lines between rockabilly, psycho, surf, punk and rock n? roll; kicking down genre barriers and demanding undying loyalty at every show they play. Incorporating elements from whatever the hell they feel like, The Brains concoct an irresistable brew of Motorhead-esque ferocity and sexed up latin swagger while adding a pinch of rockabilly revival and a whole lot of booze-fueled punk rock mayhem.